Silicon Rubber SATA HDD Skin Kit
Silicon Rubber SATA HDD Protective Skin Kit
(with SATA 22P PCI Bracket & Cable)
Part number: SSRE-KIT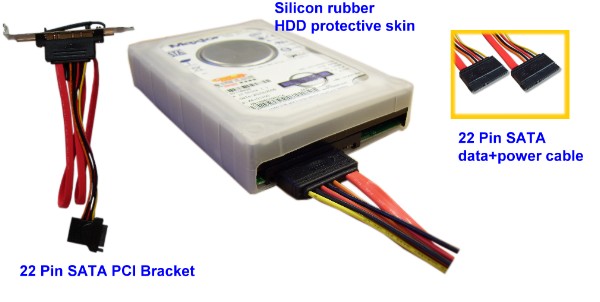 What would you do with old SATA hard drives? Using our Silicon Rubber SATA HDD Protective Skin kit is the easiest and cheapest way to convert an old drive for external use.
Our smart design protect sensitive SATA hard drive and allows proper heat dissipation generated from the hard drive.
Our SR HDD Skin is easy to fit that takes only 5 seconds to install and this SR enclosure is also stackable saving desktop spaces. With our special 22 pin SATA data+power bracket cable installed on the back of the PC, you can use the existing PC power, saving you from the cost of an external power adapter.
Our SATA SR HDD protective skin kit is all you need to convert a SATA hard drive for external use.
Installation Instruction
Step 1
Power off the PC.

Install the 22 pin SATA PCI bracket on the PC chasis. Connect the 7 pin SATA data cable from the bracket to one of the SATA connectors on the main board.

---

Step 2

Connect the SATA 15 pin power connector from the PCI bracket to the mating SATA power connector from the power supply unit as the picture shown on the right.

---

Step 3

Connect one end of the included 22 pin SATA data+power cable to the PCI bracket just installed.

---

Step 4

Connect the other end of the included 22 pin SATA data+power cable to the SATA hard drive.

---
Standard package includes:
1 x HDD rubbe skin for 3.5" hard drive
1 x 22 pin SATA PCI bracket
1 x 22 pin SATA data+power cable
| | |
| --- | --- |
| | Stackable |